Zimtrollen sind doch einfach das beste was es gibt.
Nach wunderschönen, fast schon spätsommerlichen Temperaturen meldet sich der Herbst mit voller Wucht. Grau, verregnet und stürmisch. Brrr, schrecklich das Wetter! Was darf da nicht fehlen? Genau ein paar Zimtrollen, warme (selbstgemachte) Hanfmilch und am besten ganz dick im Bett mit Kuscheldecke und einem Harry Potter Film.

Den Anfang machen jetzt aber mal die Zimtrollen.
Ein schöner Hefeteig der fluffig von innen aber trotzdem knusprig beim reinbeißen ist. Der Trick dabei, zuerst Hefe mit lauwarmen Wasser, einer prise Zucker oder Agavendicksaft zusammenmischen. Ein paar Minuten stehen lassen, bis sich Bläschen bilden und dann ist der Hauptakteur auch schon bereit.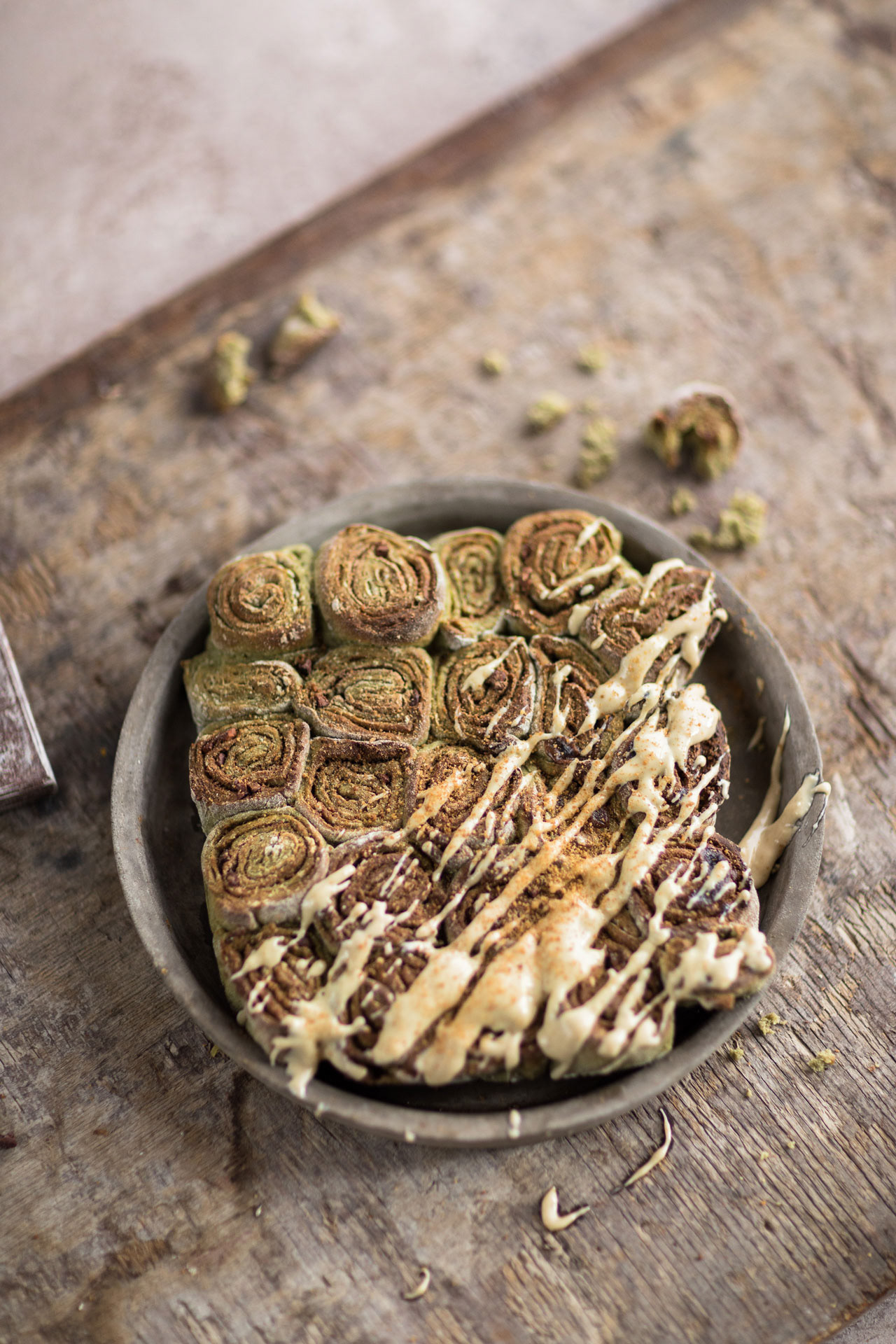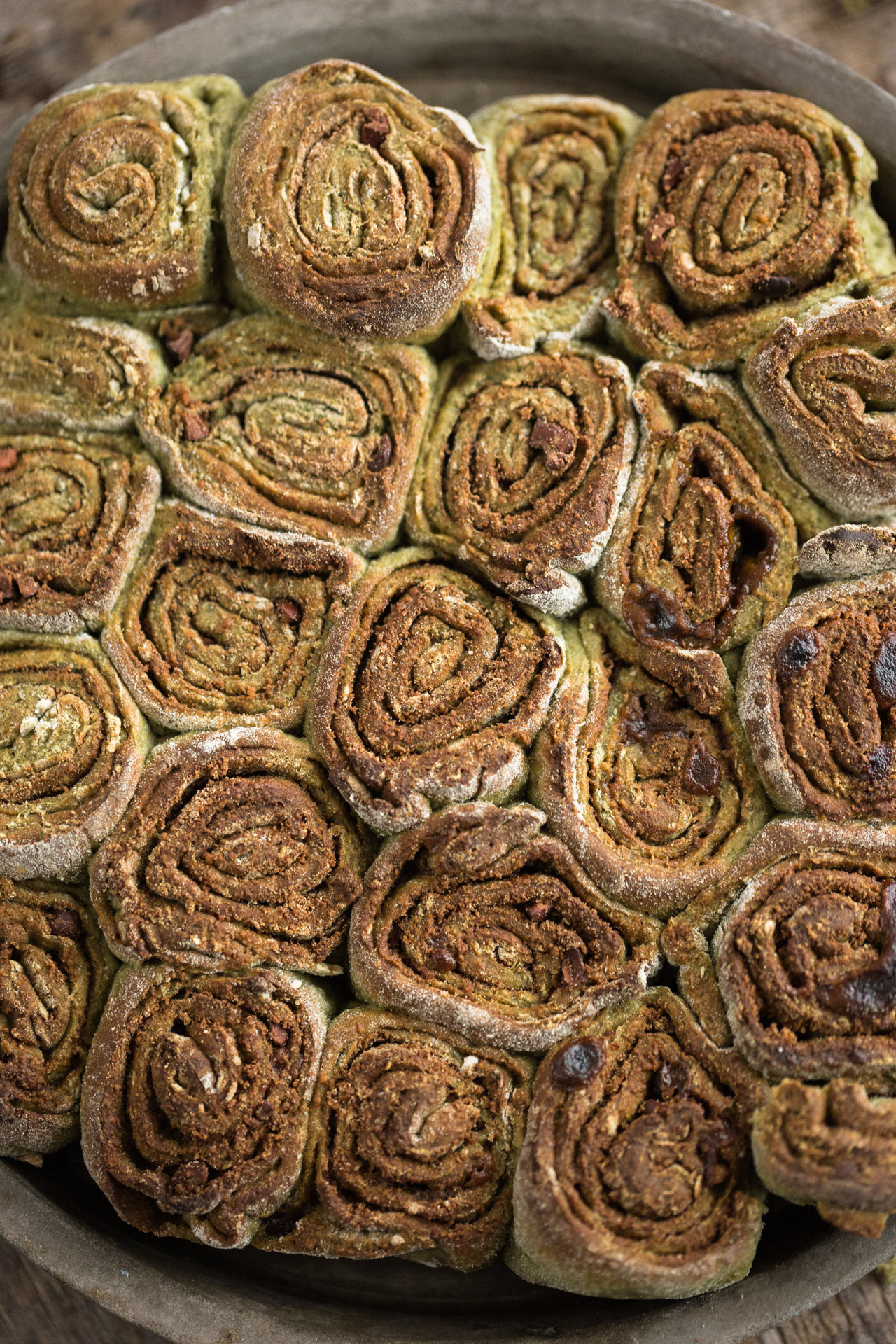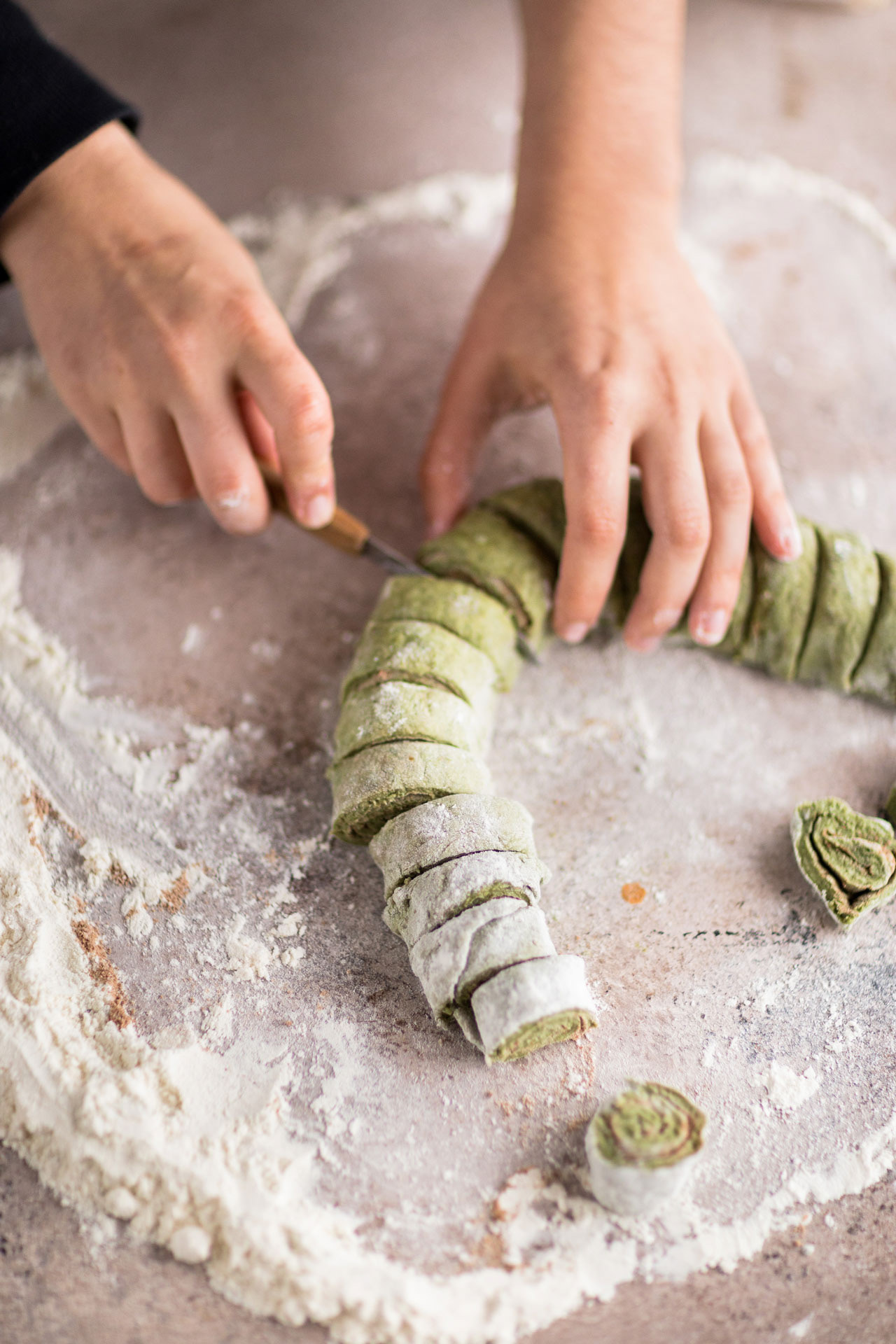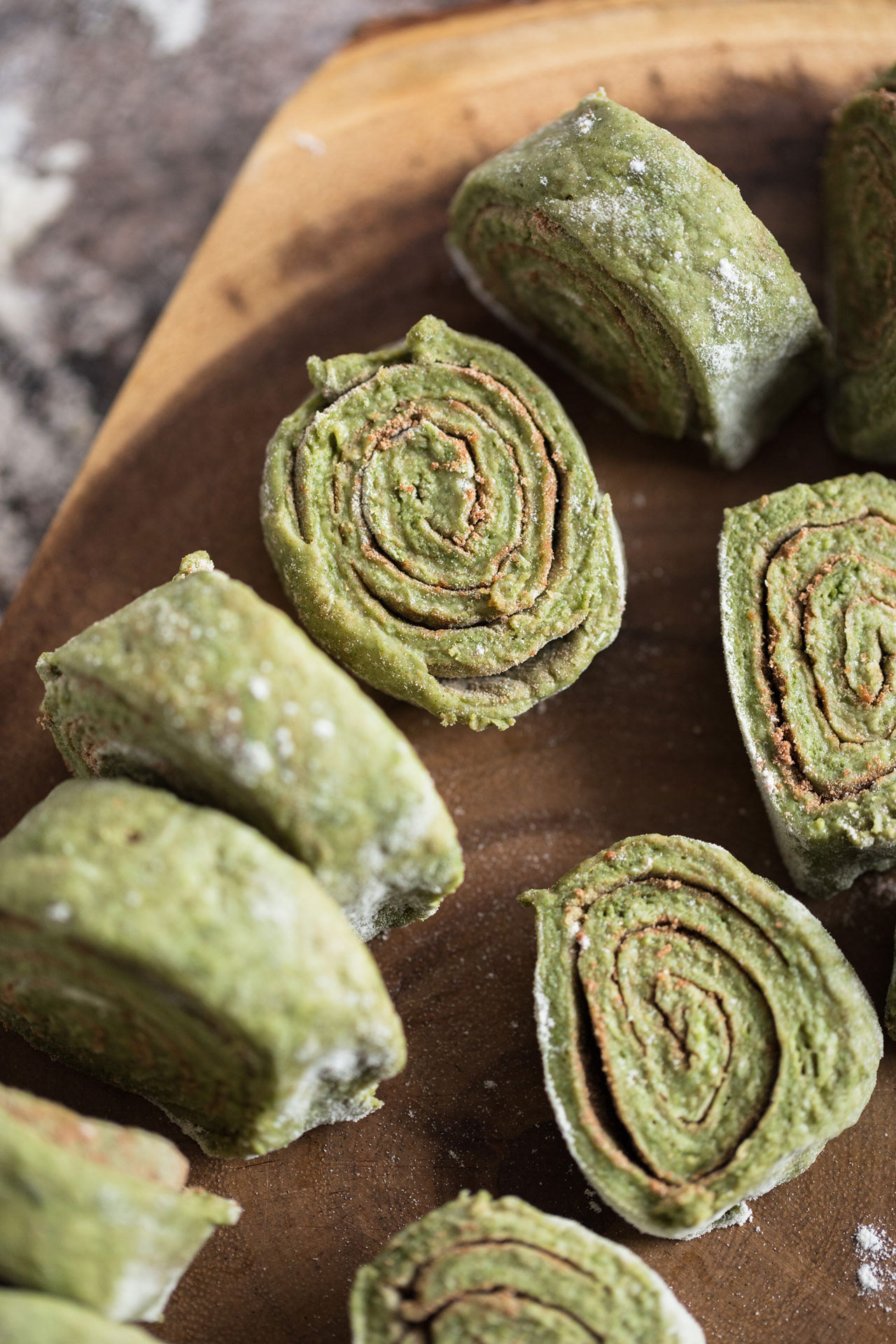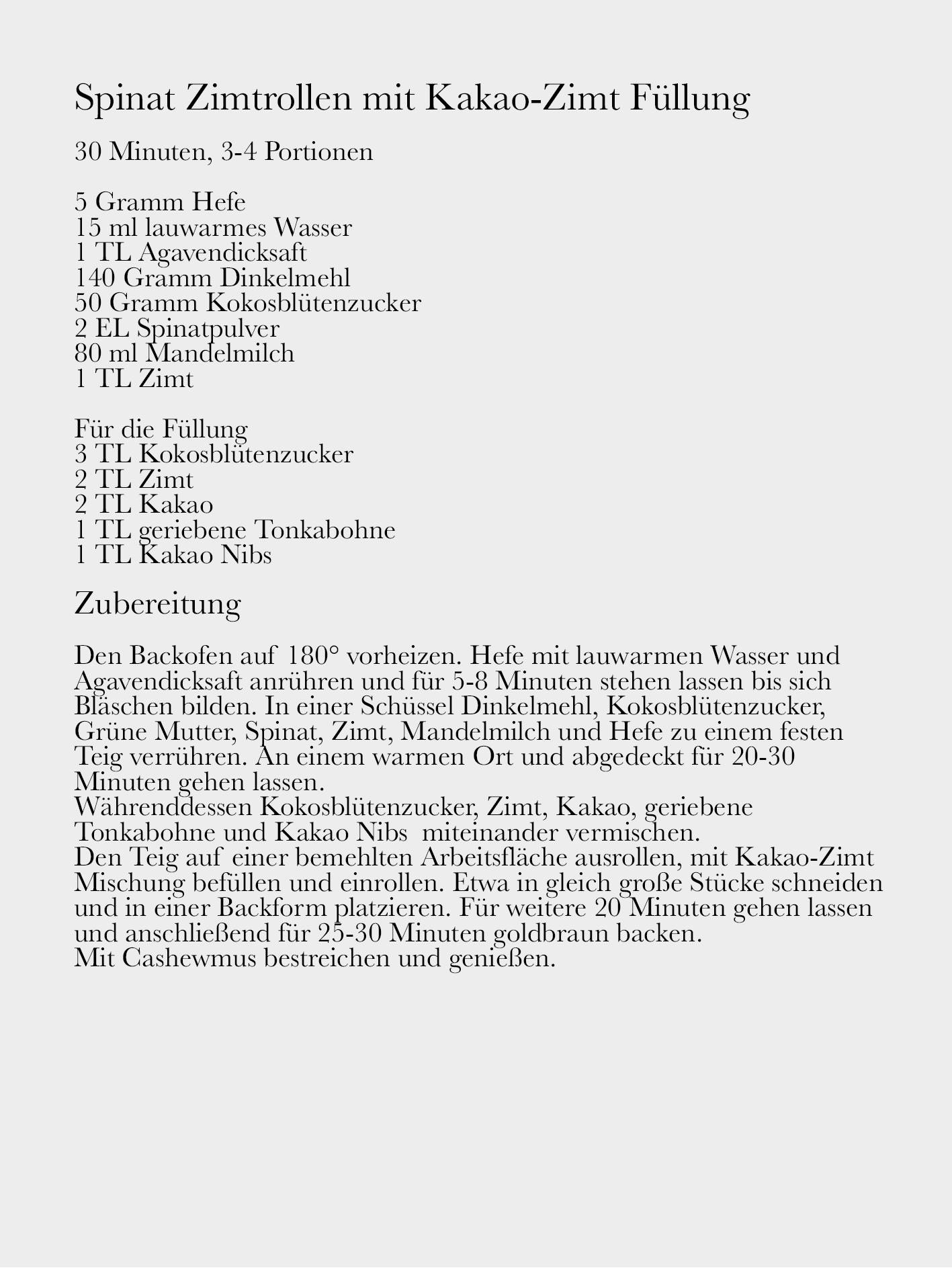 Cinnamon rolls are simply the best out there. 
After beautiful, almost late summer temperatures, autumn is coming up with full force. Gray, rainy and stormy. Brrr, terrible weather! What can not be missing there? Exactly a few cinnamon rolls, warm (home-made) hemp milk and preferably very thick clothes in bed with a blanket and a Harry Potter movie. 
The first step is the cinnamon rolls.A nice yeast dough that is fluffy from the inside but still crisp while biting. The trick is to mix yeast with lukewarm water, a pinch of sugar or agave syrup first. Leave for a few minutes until bubbles form and then the main actor is ready. 
In addition to spelled flour and coconut blossom sugar, there is also spinach in the dough! 
How can you just add that to a sweet ?!
For those who want to boost their veggie intake a bit, or want to bring the kids to eat more spinach or broccoli, hide in desserts! Quite simply and the best you will not taste it out. Spinach as well as zucchini have the peculiarity of being totally tasteless and can also be added a few teaspoons more to the dough.
 That's exactly what I did with the cinnamon rolls. 
Of course, they also taste completely without spinach powder (as a hint) 
Then you just mix everything together until you get a nice smooth dough that you can roll out smoothly on a floured work surface. 
And then comes the filling.This is a mixture of cocoa-cinnamon-coconut-blossom-tonka-bean and a few cocoa nibs. Oh yes, the combination is pure perfection! 
In the oven and then come the 25 worst minutes to patiently waiting in front of the oven. Finally, I always love something creamy and what better fits like Cashewmus? Exactly, a little more. And a glass of lukewarm milk. 
So be prepared for the cold and especially dingy days!